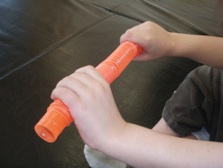 This is an inexpensive toy that children love. I love this toy too!
Each Christmas our family was invited to a wonderful party.  As the years passed, our friends' children grew up and started having children of their own.  Lots of them.  I wanted to bring gifts for all the grandchildren.  I purchased red and green "Tubes," which I find incredibly helpful in building hand and arm strength.  I'm not sure the young parents were thrilled as their offsprings paraded all over the house waving the extended tubes in the air.  But I was delighted and I think the kids were too.
When children stretch the tube out and then push it back together, they are getting a super upper extremity workout! (I  did highlight to the parents some of the many benefits of this toy, beyond the mayhem they observed at the party…)
Benefits:
Hands and arms get strong.  If the wrist stays cocked up (as pictured above) the all important extension muscles get stronger too.
Figuring out how to keep the fingers wrapped tightly around the tube when pushing it back in is difficult and a motor planning challenge.
Some children with tactile hypersensitivities find the sensation uncomfortable.  It will not hurt them, so if reassured, this can be a desensitizing activity.
Directions:
1. Hands wrap completely around the tube with the thumb tightly tucked, wrists and arms  fully extended (straight).
2.  The child pulls the tube out, trying to maintain the straight arm position throughout.  This is difficult and may take a while to achieve.
3.  The child is then instructed to place hands close together to push the tube back in, trying to keep hands and arms in the same position throughout.  This is harder than it sounds!
If this is done correctly 5 times EVERY DAY, hands and arms will get strong!