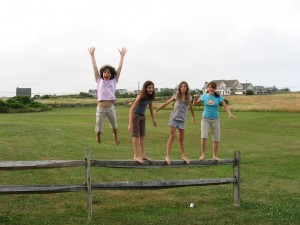 We know that the best way to get children 0-7 years old strong is to go outside and PLAY PLAY PLAY.  And if the weather makes this impossible (Are we remembering this winter???) then drag out blankets, pillows and your imagination and PLAY PLAY PLAY.
But once kids reach "Intro to Formal Sports" age (7-8 years old) strength training can begin in a limited and carefully developed way.
This does NOT mean hauling out bar bells and pumping iron for hours in the basement.  Guaranteed, that WILL lead to injury-potentially long term.  A professionally trained coach, trainer,  or PE instructor is recommended to guide the prepubescent to teenager in proper mechanics and level of challenge to work towards.
The following articles review research and view points on the topic of strength training for kids:
http://www.reuters.com/article/2010/10/26/us-strength-training-idUSTRE69P3M120101026
Another on weight training:
http://well.blogs.nytimes.com/2010/11/24/phys-ed-the-benefits-of-weight-training-for-kids/
I personally recommend these for kids ages eight and up.  Younger children should get outside and play.  Weightbearing and trunk strengthening occur naturally if younger children are given ample time to run, climb, crawl and play.