We've been talking about soil and planting the seeds.  Happily, with nutritious soil, care in watering and "some" sun,  our little pea seedlings are poking out of the ground and beginning to stretch for the sky.  Miraculous, considering temperatures still hover around freezing and clouds fill most of our days this spring!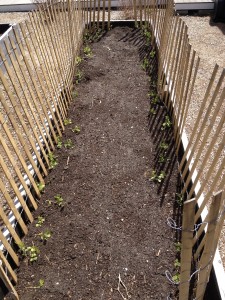 The 6th graders set up the pea fencing along the perimeter of the garden boxes. The pea starts were planted near the fencing so they can easily clasp onto and gradually climb their way to the sky.  By growing the vines vertically, space is conserved for a bigger yield, the plants are less apt to be attacked by ground insects/diseases and the airflow keeps the tender tendrils dry and healthy.
We know the shoots are delicious, as we've been eating the pea tendrils, grown in the classroom windows.  That's why our first line of defense and choice for staking the pea plants  grown outside is to use snow fencing.  In our neck of the woods, bunnies seek out a varied diet of greens and flowers.  They, too, love the nutritious packed and delicious peas.  By building a barricade, the bunnies prefer to hop on to easier pickings.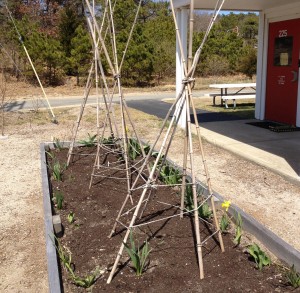 Truro is where the first Pilgrims stepped onto dry land. It's also where these starving explorers discovered and "borrowed" corn from the Native Americans.  The students  are familiar with and have likely played at Corn Hill Beach, named in memory of the first "donation" provided by our gracious hosts. Growing is a heritage of the region and the children have learned alternative (if less bunny-proof) methods of growing legumes. Gardening can become a history lesson as well!
Equipment:
Lightweight fencing such as snow fencing pictured in the first two pictures.
Wire fencing with stakes can also be used.
Poles, sticks or bamboo shoots can be used to make tee pees.
Directions:
Many hands make light the work! One or more hold the fencing in place while another firmly pushes it into the ground.  A large stone, brick or mallet may be used to tap into place.*
Same method with large sticks for the tee pee method:  hold securely and tap down (be sure sticks are 1 foot deep).  Tall person ties the sticks together as pictured above.
* Children should be at least 7 years old and proficient in rudimentary tool use.
Benefits:
This post reflects the partnership and creative collaboration between The Motor Story and Sustainable CAPE.