When discussing our collective experiences in growing a Children's Garden at the Truro Central School, a second grader summed it up by stating, "I like making food."  The students participated in the process of planting seeds, amending and tending to the soil, weeding and best of all, harvesting delicious food.
---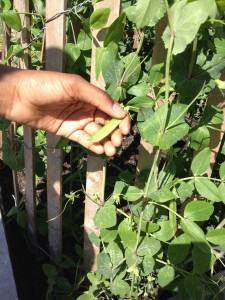 Along the way, they acquired a greater understanding of science in the natural world and employed many of the academic skills being taught in the classroom.
How things grow, interactions of plants, animals and humans (well yes, we are indeed animals, but have  unique roles to play in the success and failure of our crops!)
Math skills, such as counting, measuring, grouping, estimating
Vocabulary building (Do you know what puburlent

*

means? The second graders do!)
Spelling practice (letice or lettuce…cale or kale?)
Writing practice
Fine motor dexterity building
Visual perceptual work (identifying a weed from a tiny seedling)
Following a series of directions
---
While the students were engaged in the activities, along with the learning benefits, the gardening experience also nourished many aspects for their personal growth.
Building body strength (all gardening tasks require strength of hands, arms and core!).
Working in the dirt, mixing soil, clay and feeling various textures of the plants grown enhances the tactile (touch) system.
Hauling compost, hammering posts and heavy lifting activate organizing centers in the brain, leading to improved attention and focus for learning.
Growing food and observing the beautiful garden flourishing outside their classroom doors reinforces the autonomy and joy they've experienced!
Eating the bountiful harvest provides healthy food for the body to grow strong.
Sharing food and potted plants with family and friends allows students to extend the learning and the communal experience-leading to a sense of pride and accomplishment.
---
We did a survey of the students' favorite activities during the year. We asked each student to share favorite (and least favorite) things about the garden and growing food.  The responses are pared down to the following favorites:
Eating the food grown
Planting
Shoveling and Constructing fences
Seed Bombs
Making Garden Signs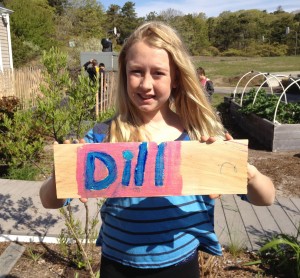 K through third graders loved the Seed Bomb project and this topped their list.  Eating was a close second.  Fourth graders LOVED eating the food harvested with a wide margin between this and the other categories. Making the garden signs proved quite popular for fifth graders. Shoveling, hauling and pounding fences topped the list for 6th graders.
---
The take-away from this data:
Younger grades love small, short term projects with a tangible, immediate goal.
Fifth graders have great energy for the creative process.
Older students, with all that pent up pre-pubescent energy, crave heavy work. They intuitively recognize the benefit of engaging in rigorous physical activity!
Regarding the 4th graders, it looks like they are cresting a big growth spurt and their bodies are eagerly ingesting healthy, delicious, organic food!
---
Re-capping the specific Farm to School concepts and skills taught:
Several methods of planting seeds (broadcasting, cell seeds, direct sowing)
Best methods to transplant seedlings and pot up plants
What factors are necessary for a plant to survive (food, water and space)
What food or nutrients make healthy soil
Identification of plants
Discrimination of plants and weeds
Learning the difference between edible and inedible plants
Importance of beneficial animals such as Butterflies and Worms
How to entice beneficials to visit  the garden
What we can do to help save butterflies and our world
Healthy fresh food can be delicious!
---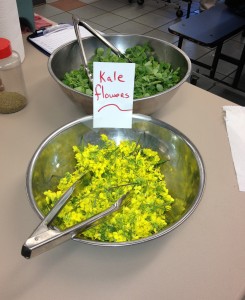 ---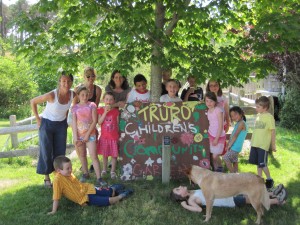 Weekly posts will continue as we follow the Truro Community Children's Garden, housed  at the Truro Public Library.  Farmer Drake will share her knowledge of cultivating food.  Many garden related games and activities will be highlighted!
---
*puburlent: plant with a fuzzy surface (Covered with a very fine down. Source:Dictionary.com)
---
This post reflects the partnership and creative collaboration between The Motor Story, Sustainable CAPE , Truro Public  Library and Truro Recreation.