Ten days 'til Christmas!  Planning simple holiday themed activities helps to channel some of that palpable energy.  The trick is to keep the projects simple. When kids' sensory systems are overloaded with multi-colored lights, never-ending Christmas music and constantly changing routines, they don't need any motor planning challenges.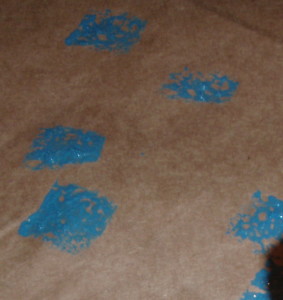 Activities that incorporate easy to do steps provide opportunities to express creativity and have fun.  A little ahead of time prep leads to guaranteed success and minimal clean up.
Sponge art works for the toddler.  It works for a professional adult artist and everyone in between.  Materials are inexpensive and easy to assemble.  Along with a water-based paint (found in any toy or arts and craft store) all you need are large sized sponges and paper grocery bags.
For a more complex project, either make stencils or purchase at an arts and crafts store (e.g. Michael's).
---
Materials:
Poster or tempera paint (water based and easily cleaned up)
Utility sized sponges (to cut into one inch chunks)
Masking tape
Large brown grocery bags or other large sized sheets of paper.
---
For More advanced projects:
Stencils
Paper
Masking tape
---
Directions:
Tape cut open grocery bags on a table or floor.
Cut out sponges, dampen.
Fill small yogurt containers with paints.
Have the child hold end of the sponge with thumb, index & middle fingers.
Dip into the paint and then dab onto the paper.
---
Stencil Directions:
Tape the stencil down on the paper.
Carefully hold the stencil near edge when dabbing the paint.
After completed, let the paint dry a few minutes.
Carefully un-tape and lift the stencil off the paper.
Stencils can be made into cards, or home-made wrapping paper.