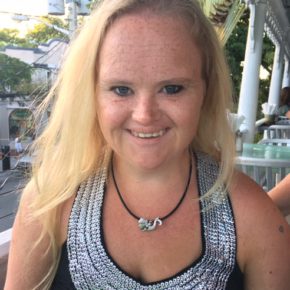 In our youth oriented culture, getting older tends to herald the decline of bodily functions and a wistful outlook, with memories of good times receding in the past. The silver lining of growing older, is that you get to witness how things turn out.
In my case, I get to hear about the kids I worked with long ago. Tiny two and three year olds, once crawling over giant pillows and diving into ball pits, now all grown up, graduate from college, even graduate school, and move on to successful careers.
I had the pleasure of working with Maddie Ahrensfeld over twenty years ago. At the time, Maddie had low tone, some coordination challenges and struggled with fine motor skills, issues typical of Down Syndrome. In OT, we worked together on strengthening her core, arms and hands. We figured out that she didn't like to feel things. Paints, scratchy clothing and well, practically everything that touched her, made her uncomfortable and anxious. When I asked Maddie to practice drawing circles and triangles, she'd grind her teeth and growl.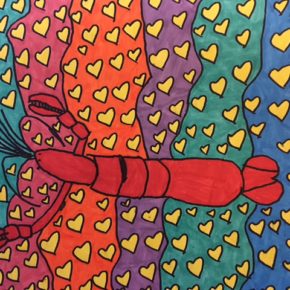 Maddie got stronger, and slow but surely, with a sensory program, she no longer stressed out whenever confronted with tactile experiences. The day came when she "graduated" from therapy. In spite of challenges she faced, Maddie had an indomitable spirit. Her eyes always sparkled as she greeted folks, communicating a sincerity and joy de vie that rivals anyone I've ever known.
So, when we said goodbye, I told Maddie's mom that in spite of hurdles ahead, I had confidence that Maddie would blossom as she grew up. In fact, I said, "Maddie is someone I'd like to meet in twenty years and have a drink with."
Fast forward twenty years. Thanks to social media, I reconnected with Maddie's mom. She told me, as I had predicted, that her daughter had become a lovely young woman, and I would, indeed enjoy having a drink with her.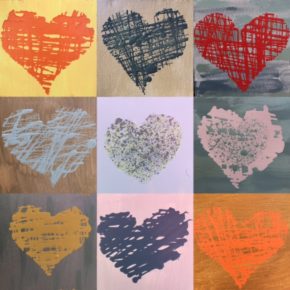 In fact, Maddie has become so much more! She is a successful artist, creating promotional artwork for businesses and has her own greeting card line. She sells her artwork at juried art shows, galleries and gift stores.
Best of all, when I reconnected with Maddie a few weeks ago, the same sparkle and spirit that I remember from years ago, greeted me. I've just passed a milestone birthday. Meeting Maddie again, is the best gift I could have wished for!
Maddie has exhibited her work at the following places:  74 Bank, Harwich Port, MA, Cape Abilities Farm Store, Dennis, MA, Harwich Cranberry Festival, Harwich, MA, By the Bay Art Show, Brewster, MA, Cape Cod Tech Holiday Craft Fair, Harwich, MA,  Artisan's Market, Key West, FA, Driven Women's Conference, Falmouth, MA, Island Inspirations Gallery, Key West, FA, Cottage Gift Shop, Key West, FA.