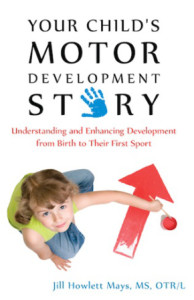 Your Child's Motor Development Story serves as a guide to families and teachers in understanding how sensory motor development impacts  the health and wellbeing of every child.  Beginning with birth and spanning the years leading to and including the first formal sports experiences, the book offers many suggested activities to enhance development in all critical areas.  Case studies and beautiful photography give clear illustration of how to's and why's of developmental stages, key skills and how to best organize and play with the child.
The publisher, Future Horizon's Sensory World,  had the vision to see that sensory motor development is and needs to be a concern for more than just the "special needs" population. While the book will help families struggling with sensory processing and motor issues, the message to all parents is, "Healthy play for all children is key to every aspect of their development!"
Award winning photographer, Eileen Counihan, draws the reader into the joyous world of children with her spectacular photography.
Click here to visit Future Horizon/Sensory World to order Your Child's Motor Development Story and look at other related materials.
Click here to purchase Your Child's Motor Development Story from Amazon.