All of the basics should be in place but refinement in drawing can develop.
The control of the drawing tool becomes more precise and endurance develops for drawing and writing.
The child learns to accurately draw smaller details with more accuracy.
The pictures are oriented with a better sense of space and organization.
Combining more complex shapes develop.
The ability to discern differences in angles (45 degree angle vs a 90 degree angle)  and draw them correctly improves.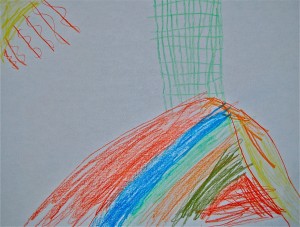 By first grade children begin integrating concepts they are learning into their drawings.
The use of space becomes more sophisticated (foregrounds and backgrounds emerge)
Relationships of objects and sizes become proportioned better.
At this point, coloring in patterns and designs may be an enjoyable activity.
To help develop actual drawing ability simple "How to draw books" may be helpful for the middle to older elementary student.  Beware of many commercially produced "How to Draw" books.  Many of them are so complex, that like coloring books, by the time the child can understand and synthesize what is demonstrated they could probably draw it without the help of the book.
The all time BEST early "How to Draw" books are by Ed Emberly.  He has a series of books that work well for the younger elementary aged child.  Look at them carefully though because some are easier than others.
It is tempting to "push the envelope" and get very excited about teaching  or exposing your child to more challenging art work, keep in mind that drawing familiar, tried and true things is a comforting activity and can serve as a neurological organizer as the child's brain works hard at assimilating many academic concepts and skills (writing, math, spelling,  science, social studies … )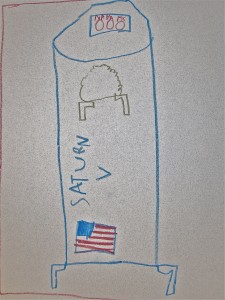 Keep in Mind:
Sharp, good quality pencils are very important for the older preschooler and kindergarten student.
Branching out to other mediums such as  charcoal, pastel chalks and a variety of paints is a great  thing to get the creative juices going in the older child.  (These can be used with a younger child but keep in mind that due to limited skill in drawing the outcome may be messy and "abstract."  Which of course, is OK!)
For the child who expresses a serious interest in drawing,  local community associations frequently run classes for the young child.  Look carefully and make sure that the instruction is based on free expression, especially at the early years.   If the class emphasizes how to draw specific things in a specific rote way, it might stifle creativity and limit the child's understanding of art.  More specific drawing techniques may be introduced in the high school years, but most artists I know have expressed a strong sentiment that the free creative "juices" should be allowed to flow in most art classes.
Suggested resources for art classes:
Local Community Centers
Local Artist Guilds (if they don't run their own they might refer you to a good program near by)
Local schools (community colleges and private schools often run summer and after school camps)
Websites for Resources (not specifically endorsed by this author)