The Hallmark of this Age: 
Basic shapes should now be drawn fairly accurately (square, circle, rectangles of varying sizes, and the triangle should not have curved lines).
Vertical and horizontal lines can be combined in a variety of ways.
The size remains large but can be contained on a single sheet of paper.
Keep in Mind:
Large sized spaces are still terrific to draw in.  Think BIG!
Chalk boards and white boards, if available are wonderful.
All mediums available should be incorporated into artwork.
5 to 6 yrs.  Draws a person with 8+ body parts
Shapes combine to make representations of real objects.
 Suggested common objects to teach
---
Simple Houses

---
Simple animals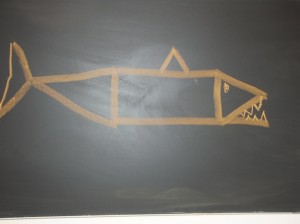 ---
People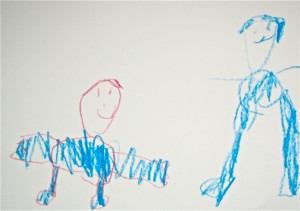 ---
Simple flowers
---
Ed Emberly has the most amazing book that I have used for YEARS:
You can get this book on line if it is not on the shelves at your local book store.  It is an inexpensive paperback and is one item I feel is truly worth spending money on.  Work with your child for the first few pictures until  the idea of how to follow the sequence is understood.  If the child can draw a circle, diagonal, horizontal, vertical and curvy lines then all the pictures in the book are doable for the child.