Early exploration  of a variety of mediums can begin.  The more heavily loaded with touch information initially, the better.
So a great place to start is with shaving cream or pudding (on the height chair tray).  Whole hand movements back and forth teach basic strokes in large space.
Back forth = horizontal strokes
Up and down strokes + vertical strokes
Around and around = circular strokes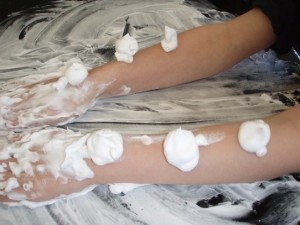 ---
As the child grows and hands no longer end up in the mouth, finger paints can be used.
---
Playdough and clay not only strengthen the hands, they provide added information about form.
Coils = lines
Shaped coils = circles etc.
Balls = spheres
Pancakes = circles, ovals, etc.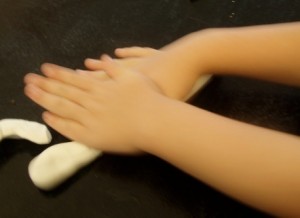 ---
Large markers are the most successful writing tools for the younger child.  Markers glide nicely over the paper so the hand muscles don't have to do a job they're not ready to do.  The large size makes the thumb move away from the palm of the hand thereby beginning the thumb strengthening process which must continue throughout preschool and kindergarten (and first grade if not strong by then).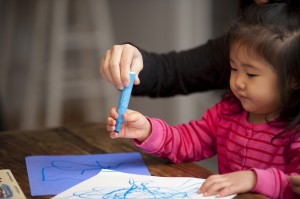 ---
Crayons have more resistance to them so they are harder to move.  If choosing these, make sure they are the chunky larger size.
---
Painting with a large brush and an easel is a great way to begin the drawing process.   Make sure painting is done in an area where dripping will not matter and the clothes are covered by a smock (an old shirt you were about to give to The Salvation Army will do).  No matter how water based they say, chances are a new white shirt will not look the same after gobs of pink paint land in the middle of the shirt.
You can substitute water and a large house paint brush for outside fun.
 What should you expect a toddler to draw:
 1 1/2 yrs.  Imitate scribble, a gross grasp of the marker and scribble
 2 yrs.  Imitates one line
2 1/2  to 3 yrs.  Copies an approximate circle