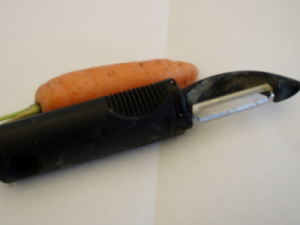 I have recently learned that an excellent source for potassium is found in the skins or outer layer of a carrot.  So, I'm not sure you want to peel off all that nutrition.  However, carrots also are easy to hold and are a terrific introduction to peeling for younger children. When it comes to teaching food prep, this is definitely a good place to start.
Becoming a "Sous Chef" in the kitchen not only contributes to the household routine but helps build motor skills and confidence in the child.
Benefits:
Holding the peeler correctly will increase hand strength.
Peeling is a two handed, or bilateral activity.
To be safe the eyes need to direct the movement making it an eye hand motor coordination activity.
Equipment:
The type of vegetable or fruit peeled needs to be matched carefully with the developmental level of the child.  Having the right kind of peeler and using it correctly are critical as well. The large black handled peelers (pictured above) work well.
Preschool-Kindergarten:  Carrots are best because they are relatively straight and are easier to handle.
Early grade school:  You can try apples-they are more difficult to hold so you may want to stick to carrots.
Preteen and up:  Potatoes are even more difficult due to varied shapes and a slippery surface.
Directions: (Note-close supervision should be provided throughout for this activity)
1. Use a large handled peeler (Oxo is the brand I have found best-pictured above).
2.  The non-dominant hand holds the vegatable (fruit).
3.  The dominant hand holds the handle in a gross grasp, making sure the thumb is securely wrapped around the handle.
4. With carrots, the hand holding the carrot can rest on the table.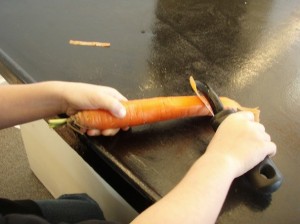 Notice how the thumb stretches around the handle and fingers wrap tightly around as well.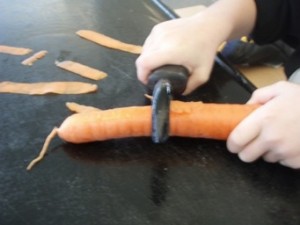 This is an example of the WRONG way to hold the handle-the thumb does NOT wrap around.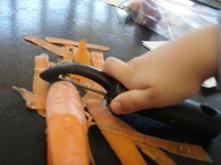 The peeling movement is away from the body.