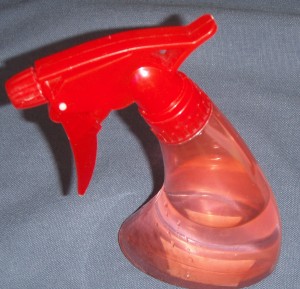 I definitely sound like a broken record when it comes to strengthening the hands.  If you only had one tool to use, a plant sprayer is it.  Every parent and teacher I have worked with knows that 5 minutes a day using a sprayer will get all the muscles necessary for writing and all higher level fine motor activities strong.
Happily, plant spayers are inexpensive and if on a tight budget any spray bottle can be used after thoroughly cleaned.
Benefits:
For young children, needing to use two hands helps build bilateral motor coordination.
The hand position required activates hard to reach muscles in the fingers.
The pumping action strengthens the muscles, especially in the thumb.
Directions:
1.  The child hooks the thumb around the back and all the fingers wrap around the nozzle.  This creates a wide space, activating muscles that strengthen the thumb.  The fingers must stretch with just the tips bending.  This brings little muscles deep inside the fingers into play.   The stronger these muscles, the better the output and endurance for writing and drawing.
2. Children can be responsible for spraying the table or desk top surface with water.
3. Students can also wipe down the blackboard and whiteboards.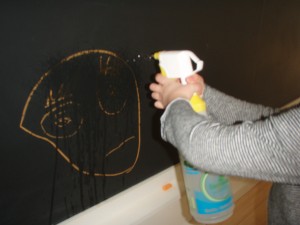 4. Having plants growing in the classroom is a lovely thing.  Assigning students with plant watering is a terrific way to integrate science, community spirit and hand strengthening.
5. Younger preschool children should use two hands as they are not strong enough to manage with one hand.  This is perfect as the bilateral aspect of the activity is very important at this age.  Any activity that can be converted to a two handed one is great!
6. Older children should use their dominant hand for most of the spraying.  This helps reinforce a sense of the preferred hand.  Building muscle strength in the dominant writing hand is key to confidence in writing and drawing.
Where to get plant sprayers:
Most grocery stores and chain pharmacy stores will sell these in the household goods section.  CostCo and others may sell them in bulk and is the cheapest way, so if a generous teacher wants to supply them to all students, that's the way to go.  Sprayers should run somewhere between $2-4.  If it costs more, look elsewhere. I have found them in Dollar Stores and similar discount places.
If funds are limited, another strategy is to save empty cleaning fluid spray bottles.  Wash them out thoroughly and then fill with water.