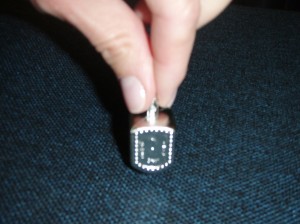 Age old simple toys are often packed with the most benefit.   Take the Dreidel, a simple gift found during the holiday season.  These toys offer a fine motor challenge that refines the pincer grasp and increases coordination of the fingers.
Benefits:
Directions:
1. Place the dreidel (top) in the child's dominant hand, positioning the fingers correctly.  The thumb and the index or pointer finger should be the only fingers holding on.  (Refer to picture above for correct way to hold the dreidel).
2.  BEWARE:  If the child's thumb "caves in" or hyperextends, meaning the thumb bows outward rather than bending at the knuckle towards the palm, the thumb is not strong enough for this activity.  Either help support the thumb joint or go back to plant sprayers and other hand strengthening activities.
3.  For younger children without adequate coordination and strength in the finger tips, the dreidel or top can be held with both hands (preferably just index fingers but if necessary index and tall fingers).  This brings a bilateralcomponent to the activity.  A larger sized toy is recommended for younger children.
Targeted age range:
Preschool:   Just learning the mechanics are a fun challenge for the younger child.  For very young children, watching the Mom, Dad or sibling spin and then retrieving the spinning toy can be fun.
Kindergarten:  More independence in the mechanics. Can begin introducing game concepts.
Elementary:  The child will enjoy playing games associated with the toy.  Competition can be introduced at this stage.
Special Considerations:
These are small objects and if the child still has a tendency to put objects in the mouth then make sure this is closely supervised.
Resources:
I have found tops and dreidels at check out counters.  Below are some online resources:
How to play Dreidel:   http://tinyurl.com/yb6ox8g
Bulk Dreidels:     http://tinyurl.com/27lhmlp