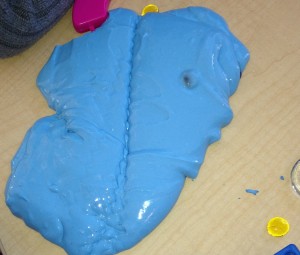 One of my colleagues takes one look at GAK and wants to puke…definitely sensory issues going on.  While I personally have some real tactile hypersensitivities, I am fascinated by the textural experience GAK provides.
This big blue blob feels wet, cold and gooey.  But it's actually dry and not very messy.  It has a big tactile punch for children who love "touchy feelie"  activities.  It also helps children somewhat reticent to touch unusual things to expand their "tactile repertoire.
Benefits:
Provides a heavy loading of touch stimulation, perfect for children who crave lots of touch stimuli.
Helps children hesitant to touch unfamiliar things to get used to unusual textures.
Play can be similar to play dough  and clay to help build hand strength.
Manipulating GAK can also help develop fine motor dexterity.
Creativity is fostered with tool use and sculpting.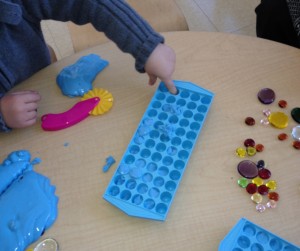 Directions:
1.  Prepare GAK according to recipe found in the link below.*
2.  First encourage children to touch and squeeze.
3.  Play tools can be used (especially for children tentative to touch) to make interesting designs, roll out and cut.
4.  Make little pea size balls and place in mini-icecube trays.  Poke in with thumb or pointer finger.
5.  Place small objects into big mound of GAK for children to dig in with fingers to find.
6.  Build objects similar to sculpting with clay.
*GAK Recipe:
1 CUP WHITE GLUE
1 CUP WATER
MIX IN BOWL #1
FOOD COLORING
1 CUP WATER
1 1/2 TSP BORAX
MIX TOGETHER IN BOWL #2
COMBINE CONTENTS OF BOTH BOWLS, PULL OUT WATER AND KNEAD
*Link to information about GAK:    http://www.stevespanglerscience.com/lab/experiments/glue-borax-gak