While May and June are packed with fun, the "To Do List" runs on and on.  Graduations, birthdays, Father's Day and the "End of the Year Gift" for EVERYONE.  When you have one child this list might be manageable but multiply the offsprings by 2 or 4 active children and the list looks more like the holiday season than the last hurrah before heading to the beach!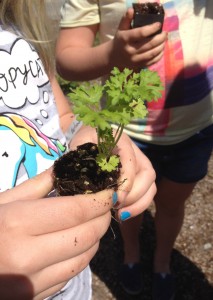 At the School Garden, plants are flourishing.  The students continue to weed, plant seeds, thin and transplant more seedlings in the raised garden beds.  This past week they also took seedlings and planted them in small pots to bring home.  Some students chose parsley and others annual flowers.
One third grader said, "I'm going to bring my Mom and Dad parsley, so they can watch it grow and then eat it!"
As I was returning from my garden yesterday, arms loaded with my first "spring greens" harvest, I offered Arugula to the tile guy finishing up a repair in my house.  He paused and then said "No thanks, I'm not fond of Arugula."  But the Preschool through Middle school aged kids that grow food in the Children's Gardens, relish and love to eat what they grow, no matter how peppery, spicy or bitter it may be!
Bringing the plants home sends the message to Moms and Dads that growing food is fun and delicious.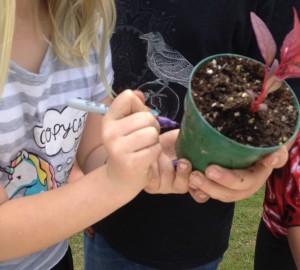 Adding flowers creates beauty in the environment and attracts beneficial insects (like butterflies and bees) for sustainability. Re-potting plants is easy and makes  wonderful and inexpensive gifts.
---
Equipment:
Flats or pots of seedlings (you can grow ahead of time or buy at a local nursery)
Potting Soil
Small Pots (We used 2-4 inch "gently used" plastic pots)
---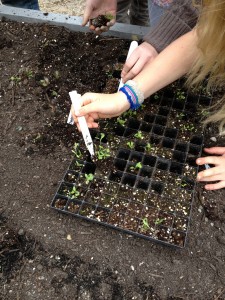 Directions:
Carefully remove seedlings from cell or pots (Refer toBlog Post:  "If You Teach…).
Fill soil in pot to about 1/2 way up.
Spread the roots and place carefully but firmly in the soil (Video demo of proper planting technique).
Add soil around the plant, making sure the roots are fully covered. Press firmly.
Water thoroughly.
Keep in a sunny location.
Pots can be pre-decorated for gifts.
---
Benefits: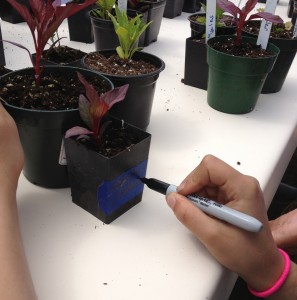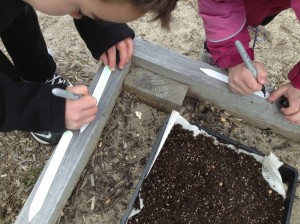 This post reflects the partnership and creative collaboration between The Motor Story, Sustainable CAPE and Truro Recreation.