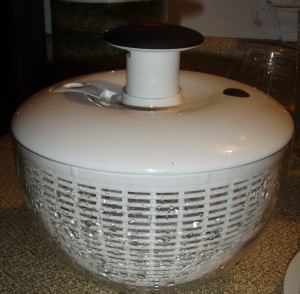 As a working mother, meal time was always a challenge.  Juggling homework help, checking voice messages (we had telephone answering machines back then), cooking dinner AND squeezing in the "family quality time" often took heroic efforts.
Having your child help in the kitchen can be a nice way to spend quality time together. Using a spinner makes it fun and easy.  This is a great way to get your child engaged in meal preparations.  The spinner is easy to use and any age group can do this with success.
Benefits:
For infants, place the spinner within eyes' view so the baby can observe the movement.
For babies, placing the greens into the bowl helps develop eye hand skills, grasp release and stimulates touch receptors.  Be prepared for a little mess!
For toddlers, position both hands on the top and help them push down.  If they can't garner the strength to push independently, give a little support in the upper arms to exert downward force. Arm strengthening occurs!
For preschoolers, make sure they use two hands.  This reinforces bilateral motor coordination.
For Kindergarten and grade school aged children, if they are strong enough, have them use their preferred hand.  This reinforces laterality, or handedness.
Having the child count each push reinforces early counting skills.
At all ages this is an excellent activity for developing simple motor planning and eye hand skills.
Directions:
1.  Place greens in the sink and have the child rinse the greens.
2.  Fill the basket half way with greens. Cover with lid.
3.  Push the spinner top with one or two hands.  Push and count to ten. Then wait for the spinner to stop.
4.  Lift the lid and take the green and place them in the serving bowl.
Special Considerations:
This is a visual and tactile activity for very young children (watching the spinner and touching the greens).
Toddlers will need a lot of help, so a hand over hand method works best.
Encourage grade school aged children to push with only their dominant hand.