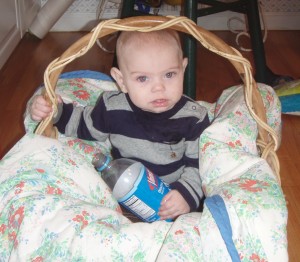 After posting "Positioning for Strength" last week, questions arose about how to get the baby from square one to five…or something like that.  In short, delving into positioning a little further might be helpful.  Everyone looks forward to the time that baby can sit up alone, so I thought I'd start with sitting strategies.
Babies are super safe when they are strapped into baby seats. That's the expedient, short term goal. BUT you might want to take the long view. Figure out how to keep your baby safe while strengthening muscles for independent sitting.
Why? With a strong core, the child is armed life long with protection from unnecessary injury. Here's the guide:
Equipment:
A floor
If a baby isn't sitting independently yet, toss enough pillows on the floor to prevent bumps from falling.
Miscellaneous toys
Benefits:
As the young child works at sitting upright, core muscles get stronger.
While sitting with legs extended in front of the body, balance is challenged. This helps build the balancing sense.
Reaching for toys further strengthens muscles and balancing.
Once sitting is firmly established, reaching strengthens muscles that wrap around the body
Reaching across the midline of the body influences handedness.
Directions:
Provide support for the very young child.