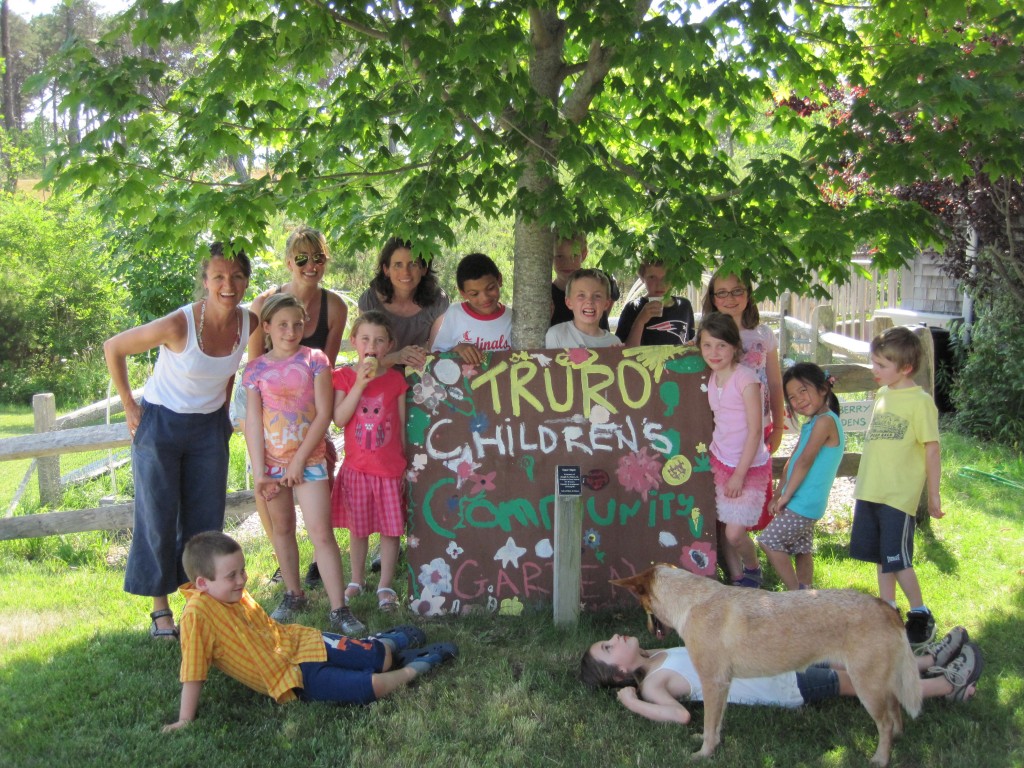 The Motor Story is thrilled to be teaming up with Sustainable CAPE and the  Children's Community Garden to share all the amazing benefits of gardening with kids.  This addition to The Motor Story will provide week by week instructions on best practices for growing and how to do this successfully (and joyfully) with children.  Besides the delicious produce grown, we will share how sensory motor ability flourishes through gardening as well.
Sustainable CAPE's  Children's Community Garden grows year-round organic produce with participating K-6 elementary school children.
Children plant, cultivate, eat (and enjoy!) local fruits and vegetables – resulting in improved health and a formative early connection to agriculture.
The children learn sustainable, healthy practices for their bodies as well as their environment: the soil, aquifer, bay, ocean and ozone.
Francie Randolph, founder of Sustainable CAPE and the Truro Children's Garden, is an award-winning artist with a BA  in Visual and Environmental Studies and an EdM in Art & Technology both from Harvard University.  Francie lives and works surrounded by gardens on a small farm in Truro with her husband, two children, one cat, several sheep, a dozen hens and countless honeybees.
Drake Cook is a local organic farmer.  While pursuing a degree in Comparative Literature at the University of Massachusetts, Amherst, she became involved in the farming and food justice community, which set her on a course to become a sustainable farmer. Drake pursued organic agriculture courses, interned at an organic pasture raised dairy farm and traveled around the US and Europe, learning best practices in organic farming. After graduating, Drake moved to the Cape to help run a local market farm, Pure Joy Farm.
Stephanie Rein  has been farming for 25 years. After studying elementary education, plant and soil science at Humboldt State University she helped start several local farmer's markets as well as one of the first CSAs (Community Supported Agriculture) on the East Coast. Stephanie owns and operates Out There Organics, a small family farm, producing a variety of vegetables, herbs and plants. She is a co-founder and Secretary of Sustainable CAPE and the event coordinator for the Truro Agricultural Fair.
Maggie Hanelt is the Youth Services Librarian at the Truro Public Library.  She has helped develop and coordinate the Children's Community Garden since its inception. Collaborating with the Barnstable 4-H Cooperative Extension and the Truro Recreation Department, Maggie has taken a lead role in bringing quality programming related to sustainable living on Cape Cod. Collaborating with local artists and agriculture experts, children have maintained a healthy garden behind the library and have created many award winning art projects reflecting their varied experiences with agriculture.
Sustainable CAPE's mission is to demonstrate the direct link between local food, sustainable health and wellness, and the importance of preserving the fragile land and water resources that directly enable our local harvest. The goal is to educate, empowering individuals to become agents of change – thereby creating a decidedly more delicious, healthy and sustainable world.
For more about Sustainable CAPE, Francie and The Children's Community Garden: http://www.sustainablecape.org