What motivated you to begin the Children's Garden?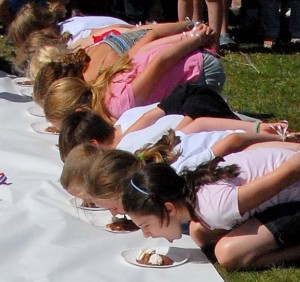 The Truro Children's Community Garden really grew out of the Ag Fair.  We had many children's events at the fair to involve children in the festivities: Pie Eating Contest, crafts related to agriculture, old fashioned games like potato sack races.  The activities brought the community together.  When we started to talk about the possibility of a Children's Garden, folks who participated in the fair donated supplies to build the garden.
You already had a huge success with the Ag Fair. Why get kids involved?
There are many levels to this question.  First, to create "sustainability" and understand the core value and importance of growing food,  it needs to start with children.  A powerful message gets sent home when a child returns from camp with a fistful of veggies s/he feels personally responsible for. The parents are also amazed by what their kids will eat, if they've had a stake in the growing.
When children are involved in the growing several amazing things occur. They learn:
 Gardening work can be fun.
They experience a sense of discovery. You might plan on thinning the carrots one day and suddenly discover huge cucumbers that need to be harvested. Or one week there are only flowers on a certain plant and the next, beautiful vegetables.
There is such great sensory development to gardening.  I always have them touch it, smell it, pick it and taste it.
The sense of accomplishment is huge. Once the harvest starts, we send the kids home with a "goodie bag" of vegetables each week.  A gift to the family!
Social interaction occurs on several levels.  The children learn to work cooperatively in pairs and small groups.  They see how each task combined leads to an amazing end product (a beautiful garden and real food to eat). They also learn that they can socialize as they sample the veggies just picked.
Discovery and Creation are a large part of the process and end product.  These are powerful and important experiences for children. As an artist, I see gardening not just as a means of obtaining food.  I see it as a creative process, much as creating a piece of art is for me in my studio.  Children start with a patch of dirt and some seeds.  They work and nurture and observe a beautiful landscape grow and develop. Each week participants measure how tall the sunflower has grown. Even the food, placed in a basket and then cut and arranged on a plate is an artisitc delight!
We extend the learning experience beyond the garden.  Children keep a journal, create art work representing aspects of the garden (drawing insects, plein air watercolors, sculpting vegetables, creating a quilt). The Children's Garden culminates with entering produce in the Ag Fair for judging and an Art Exhibit at the Library in the winter.
The children attending come from all over.  There have been more than 500 child visits and  they hail from as far away as Europe to California. All income levels are represented.  So children learn not only that gardening is a fun, productive activity. They also learn that it is a way to connect with others and that they can take ideas seeded here back to their own communities.
Thanks to the success of the Children's Community Garden, we have launched a Farm to School Program.  An expert farmer meets with classes weekly at the Truro Central School. Students Pre-K through 6th grade learn best practices in gardening with hands on experiences.  They learn about the environment and importance of healthy agricultural practices.  Best of all, they get to eat the food they grow for snacks in the classroom and in the cafeteria!
---
This all sounds great but the Cost and Resourcess must be enormous!
Thanks to the Ag Fair, we already had willing participants to donate time and resources.  Local nurseries and contractors * donated supplies and many hands helped to build the raised beds.  Hoops were provided so we could extend the season through the winter.  We grew fresh greens and donated these to the local elementary school for several garden salads.  The cost: $80!
We teamed up with the Truro Library.  The Children's Librarian, Maggie Hanelt, donates her time. The equipment and materials are stored at the library.  The garden is on the library grounds. While Maggie and I coordinate the program, we have received a great deal of support from the regional 4H program. They provide lesson plan ideas and many other invaluable resources.
The program is free.  It is a collaborative effort between my umbrella organization, Sustainable CAPE – Center for Agriculture Preservation & Education, and the Truro Recreation Program and the Truro Public Library
Tell us more about the Ag Fair and other Sustainable CAPE programs.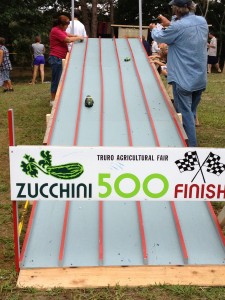 When I was younger,  I spent summers on Martha's Vineyard.  I'd go to the West Tisbury Agricultural Fair and loved it. When I came to Truro and realized there were so many "home farmers" I felt we needed to find a way to bring all these folks together.
The Ag Fair was our solution.  It started as a conversation with friends.  The first year we printed 100 posters.  The rest was word of mouth and e-mails. The police estimate was 2,500 attendees! Since then the fair has grown to 7,500-8,000 people (still only 100 posters printed each year).  Keep in mind, this is a town with a year-round resident population of about 2,000 people.  The Fair is over Labor Day weekend but by that time a lot of the "summer people" are heading home.
The objective of the fair is to celebrate our local harvest, specifically agricuture, aquaculture, fishing and farming.  We have very focused criteria for participants in booths and activities.  They must be local harvesters, food served must be from local sources and there must be an educational component to each booth.  For example, someone selling tomatoes might teach how they use bio-char to help fertilize the soil. People selling garlic exlain how you grow it.  Bee keepers demonstrate how bees make honey.
We intentionally keep the fair simple.  Old fashioned games for the kids, contests for pies, produce and a "Barn Yard Beauty Contest" are scheduled along with ongoing booths with local foods and produce.  When visiting a vendor, you know you are talking to the source of that product. The kids have fun, adults take home bushels of delicious locally grown food and perhaps learn a few things about local farms, food and how to sustain our natural resources. The fair engenders a sense of generosity from start to finish, as well as the realization that we are all participating together in the health of our harvest every day.
Due to the overwhelming success of the Ag Fair, we decided to create an Educational Farmers Market (with kid-created Education Boards).  The  market began in 2013, starting with 16 vendors.  This past summer the market had 22 vendors.  Over 10,000 people visit the market each season. NY Times Mark Bittman visited and wrote about the Truro Farmers Market in August 2014.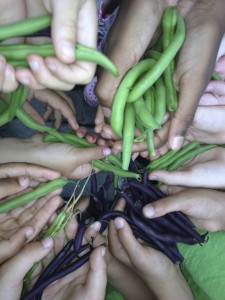 Along with education, a primary goal of Sustainable CAPE is to make healthy local foods available and affordable. "SNAP" Doubling is an important step in making local food accessible to all. Our Truro Educational Farmer's Market offers healthful food created by our community. While some bargains can be found, local fresh fruits and veggies, grown on a small scale, can have a hard time competing with processed & bulk foods sold at large stores. These industry based foods offer "value for the dollar," but we are learning that these cheaper foods often have unseen environmental and public health costs associated with them.  SNAP Doubling is one way we've been able to encourage everyone to participate in our local food system. Everyone benefits! Farmers make more sales and have USDA funds driven to them, SNAP recipients eat more healthfully, and our environment and public health is improved. It's a win-win-win!"
---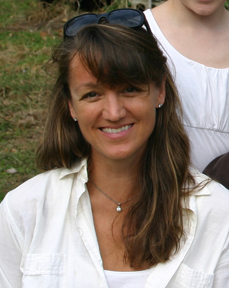 About Francie Randolph
Francie is an artist, mother of two  and passionate about healthy, whole foods.  So much so , she lives on a small farm, raises her own livestock, and is an avid organic gardener.   But Francie, who holds a BA in Visual & Environmental Studies and an MEd in Art and Technology in Education (both from Harvard University), has taken her quest to a whole new level.  She is a co-founder of the "Truro Ag Fair," and of the Truro Children's Community Garden and recently launched a new non-profit,  Sustainable CAPE – Center for Agricultural Preservation and Education. Francie has also helped orchestrate the adoption of an "Agriculture Commission" in the town of Truro, MA.
Francie was not always a "farmer." After receiving a grant and traveling through Papua New Guinea to document "indigenous designs in 2-dimensional art," she lived in Sydney Australia and then taught for 7 years at Harvard University.  Two of her favorite courses, Fundamentals of Design and Design Science were co-taught with a biochemist.  They studied 2 and 3 dimensional patterns in nature and taught the science behind how things are constructed.
When Francie and her husband Tom Watson moved to a 200 year old  house with an old orchard on the property, they began to think about gardening.  When Polly, their daughter, arrived a year later, Francie began to think seriously about what she was putting into her daughter's body (aka food).  This was when they made the commitment to grow organic vegetables and raise free-ranged livestock.
As the family became involved with others in the town, especially through school and sporting events, Francie found like-minded people across the socio-economic spectrum of their little community. Many were digging up patches in their yards to grow healthy food for their families for at least some of the year.  Others took a quarter of an acre or more and actualy grew delicious organic vegetables for local restaurants and roadside stands.
Francie realized that each member of the community had wisdom to share with others and the communal interest of growing healthy food might bring the diverse group together.  She began with two big projects: a Children's Garden and  "The Truro Agriculture Fair," both a resounding success!
Francie continues her work with local food and education beyond these projects.  She has recently created a Historic Harvest Garden, a collaboration with the Cape Cod National Seashore.  It appears she was blessed with a green thumb for gardens, and for growing innovative ideas and cultivating community projects as well!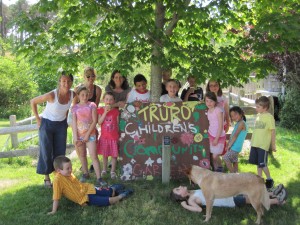 For more information about the Truro Children's Garden visit:
---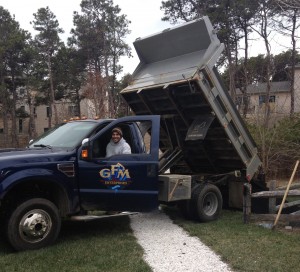 *Businesses that donated to the Children's Garden:
Truro Non-Resident Tax Association
---