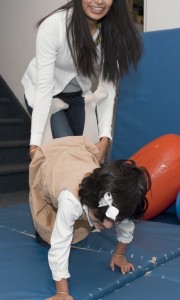 I did this with my three children when they were very young while we prepared for a bath.  Each had a turn going down the hall and back. They loved it and because we tacked it onto a task done every day we never forgot to enjoy our "wheelbarrow workout!"
Wheelbarrow walking is something you can do every day to build core strength and even get the hands stronger.   You need no equipment so it can be done anywhere.
Benefits:
Strengthen core muscles
Strengthen hand and finger muscles for better fine motor control
Weight bearing is heavy work so activates proprioceptors for organization.
Directions:
Ask the child to kneel down and place hands on the floor in front of the body.
Grasp the legs and lift while the child presses the hands on the floor.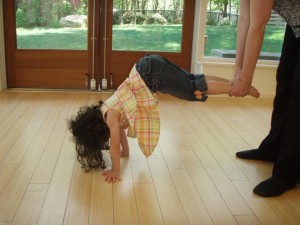 Positioning is important:  If the child's back bows or bends into an inverted V (as pictured above and below) it means that the back is not strong enough and more support needs to be provided. Simply hold the legs closer to the body.  This may be at the knees or even mid-thighs-wherever the child can maintain a straight back while walking on the hands.
Initially wheelbarrow walking may be fatiguing.  Do it for very short distances and allow rest periods.  As the child gets stronger, increase the time and distance.