A hundred years ago when I worked in hospitals I trudged around corridors hauling a large orange exercise ball.  White lab coat and a giant ball.  Keep in mind this was pre Pilates.  The word "core" referred to apples, not human anatomy.  So you, readers, are way ahead of my colleagues accustomed to seeing  spectacles, stethoscopes slung around necks and clipboards. in the elevators…not exercise balls!
Therapists figured out that the best way to rehabilitate an injured body and improve performance was to strengthen the trunk, or core muscles first.  We could have a patient lift dumb bells all day, but if they couldn't sit upright in the wheelchair,  the ability to function remained severely limited.  So we borrowed balls from the physical therapy department and got to work.
"What does this have to do with my baby …  or my eight year old …" you are beginning to wonder.  We start working on core strength on day 1.  Infants need to move from a fetal position with a floppy head to a chortling baby in a stroller, to a toddler ambling across the room to a star athlete.  There are a few gaps in this chronology, but it all begins and ends with core strength. Without a strong core, the house of cards comes down.
Positioning the child in specific ways actually helps strengthen muscles in the back and abs!
Benefits:
Activating muscles that "work against gravity" makes them strong
Attention is on another activity so it doesn't feel like "exercise"
NO special equipment required!
ALL age groups benefit
Directions:
Create a clean, safe, open space (pillows, blankets)
 Position the child in the following positions to target specific muscle group:
---
Tummy for back strengthening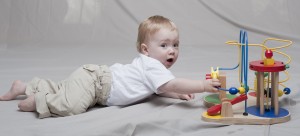 ---
Sitting (supported if needed) for stronger abs (not in a chair or baby seat)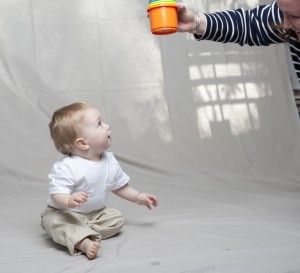 ---
Side lying to activate all of the core muscles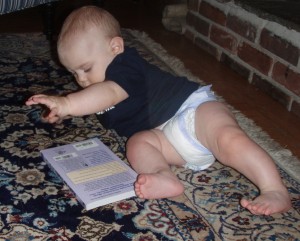 Engage the child in a fun activity
 Encourage reaching
 Rotate positions periodically so the child does not become fatigued
For older children incorporate into playing board and card games
Great for watching videos and looking at books
---
Special Considerations:
 Initially this is HARD work…provide distractions, encouragement and rest periods
 Provide added support if necessary (e.g. pillows) to help prop up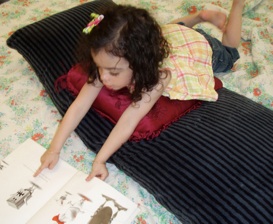 Keep in mind that non-stop supported sitting leads to a "comfy child," but does not help build a strong, confident child long term!