It's time to Tuck in the Garden.  As Daylight Savings ends and temperatures plummet, the days of growing delicious food at the Truro Community Children's Garden is ending for the season.  We'll still be able to snitch kale and mint leaves for smoothie snacks, but our big job right now is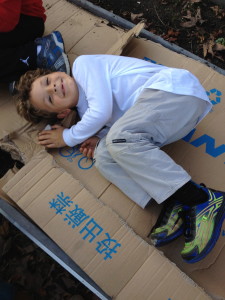 preparing the garden beds for a long winter nap- a time to replenish the garden.  Farmer Drake has selected Lasagna Gardening to add nutrients to the spent soil.
Does this make your mouth water?  Well our ingredients might not pique our human appetites, but it sure does make earth worms happy.  And once all the garden lasagna ingredients have broken down, it will make our vegetable and fruit plants very happy next year.  When those cherry tomatoes, peppers, cucumbers, etc. burst forth, we will be very happy that we gave our garden a delicious feast this winter!
Lasagna Gardening starts by laying down large sheets of overlapping cardboard (the worms favorite food!).  Make sure there are no gaps so the weeds are deprived of any sunlight. Get it good and wet.
---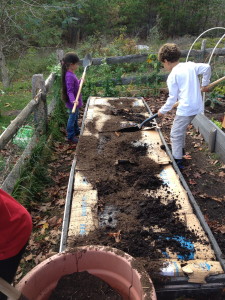 Add compost.  We used a mixture of aged horse and chicken manure.
---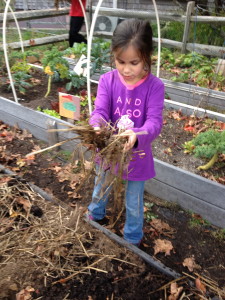 Add straw or salt marsh hay on top of the manure.
On top of the straw we piled up eel grass left behind on the beach-a gift from the sea!
A generous topping of shredded leaves can be added as they fall from the trees.
This big pile should be broken down by the spring and we will be left with beautiful, nutritious soil!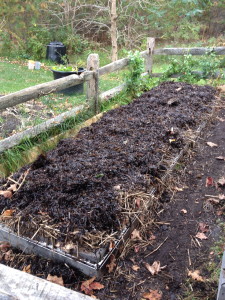 ---
Benefits:
---