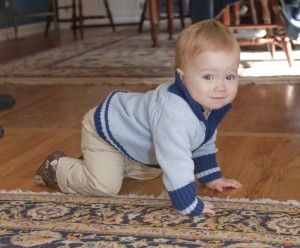 Several years ago I read an article  that noted the decline in children's ability to crawl.  In the report, pediatricians said perhaps they had overstated the importance of crawling, and it was a developmental milestone that could be jettisoned from the books.   NOOOOOOOOO!!!!
Crawling is really important.  When physical therapists and I sat at child study meetings and the parents would boast that the child was a precocious walker,  "…even skipped crawling…"  the other therapists and I would give each other sidelong glances in dismay.  When children skip crawling,  they miss MANY important opportunities to develop motor control. When you look at the lengthy list of benefits below you will understand why crawling is critical to a child's early and life long development.
Benefits:
Trunk strengthening-especially the back and neck muscles.
Dynamic balancing-lifting and placing hands while legs move requires the shifting of the center of gravity four different times-that is a lot of adjusting for the little body to do.  When the baby reaches for a toy, even more balancing is required.
Arms and legs are working simultaneously, leading to the development of bilateral motor coordination.
The arms and legs follow a pattern,establishing the foundation for motor sequencing.
Weight bearing into the hands increases hand and finger strength, critical for fine motor skills, eventual drawing and writing ability.
Crawling is "Heavy Work" thereby stimulating the proprioceptors and activating the filtering and organizing centers in the brain.  This improves attention-long term!
When toddlers are just learning to walk, it is the safe and more efficient way to get around.
For older children learning to sit for longer periods at a desk, it provides a welcome break that reenergizes the body and mind.
When grown-ups get down on the floor to play with children, it brings them "to the child's level" thus allowing the adult to "join the child."  The ensuing interactions is more positive and intense.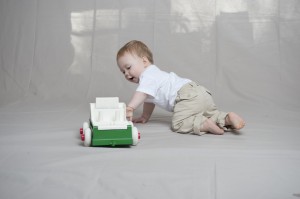 Special Considerations:
Some children struggle with crawling.  They may substitute scooting on their bellies, or doing a sit slide. These are all good precursors to crawling.  Below are guidelines to help little ones overcome the hurdles for crawling.
Remember to always model crawling.  Get down on the floor and crawl around with your child. You'll both have more fun and you'll get a work out too!
Final Thoughts:
If you've ever taken an exercise class for core strengthening, a challenge exercise you may have tried is to assume four point (crawling position) and then reach forward with one arm while the opposite leg extends.  Try it!  Then you'll appreciate how fabulous crawling is for children of all ages!