All the World Cup buzz has reminded me of soccer.  I have never attended a professional soccer game, but I have spent countless hours on the sidelines of my kids' soccer teams.  I even had a brief stint co-coaching my daughter's team.  I remember sunburns on chilly spring days and struggling in the pre-GPS days, to find well hidden town fields. But mostly I remember sharing many hours spending time with and around my children.  I loved it!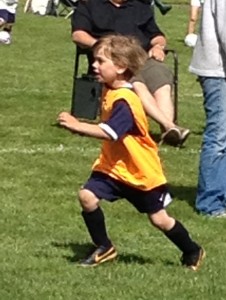 I especially loved watching the smallest soccer warriors, playing "Swarm Ball."  Twenty-two little bodies would follow the ball across several fields before the adults could reel them in, redirecting to the correct playing field.  Fun for the lead kicker, entertaining for the adults.  Not so for the players trailing the pack.
Happily, I had the great fortune to watch my grandson play soccer in Trumbull, CT.  The team commits to one hour per week; thirty minutes practicing and thirty minutes playing.  Instead of stuffing the field with a full rostered team, three children play on each side.  That's six bodies on the miniature sized field at a time.  A lot less confusing. The players  rotated in and out at regular intervals so all had fair playing time.
I was thrilled to see the evolution of soccer "training."  Trumbull and many forward thinking development programs now embrace key principles in child development.
Children have short attention spans.  This is suppose to be fun.  Why test the limits?
The emphasis is on teaching very simple "sub-skills." Why attempt to teach skills and techniques children are not developmentally ready for?
Score keeping doesn't happen and when the ball tends to stay on one side, the coaches help "facilitate" play to the other side.
Children step up and play their very best, no matter what that looks like.  If that means making mistakes, coaches give occasional reminders but don't emphasize or harp on them.  When a child is ready to grasp the concept or execute a skill, s/he will.
Always keep in mind: the reason parents haul the family out early Saturday mornings, clutching coffee mugs, is to have a great time…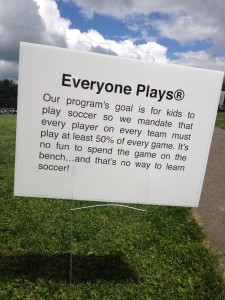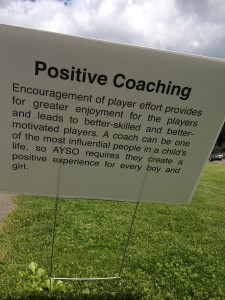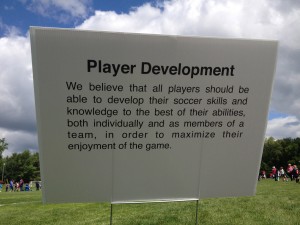 Most impressive, all players, coaches, friends and family are greeted by a series of signs lining the walkway leading to a multitude of fields, listing the core values of developmental athletics for children.
Keep in mind that these concepts apply to all sports.  If you have a Little Leaguer focused on Baseball right now, you may want to read Peter Golenbock's article on Coaching Baseball. 
---
I was delighted to see this editorial in the New York Times as The World Cup kicked off.  The article reminds us that free play, participating and experimenting in a variety of sports  and allowing children to have fun leads to fewer injuries and a higher level of athletic ability.  For more:
http://www.nytimes.com/2014/06/11/opinion/sports-should-be-childs-play.html?_r=0